Given my penchant for pasting images into my posts, you'd think you'd be staring at one of those awful pictures from twenty years ago today right now, wouldn't you?. But plenty of people are posting those today, and I can still barely stand to look at them, twenty years later. Like the second plane hitting the South Tower, it's still too wrenching to watch.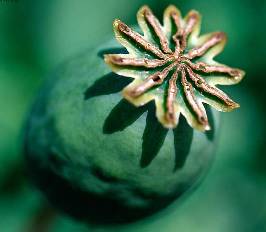 January Twenty-Eighth is one of those dates etched in my mind, like 12/7/41, 11/22/63, 11/9/89, and 9/11/01, not just this year, but every year. I was a Kennedy-era kid who used to get up at 4:00 in the morning to watch Mercury launches. NASA TV is one of my favorite cable channels. I don't need to see the pictures. Apollo 1, Columbia, it's a busy season, alas.
As I was waking up this morning, I was recalling that scene, right after "go at throttle up" and trying to place what it was that it was reminding me of. I imagined myself looking up the stem of a giant poppy plant, with the poppy bulb at its top where the big external fuel tank explosion billow was. Here's a picture of a poppy bulb from the top.
I still breath a little sigh of relief during every live launch I've watched since when those SRBs peel off. "Get the hell off you SOBs!", I'll think to myself, chuckling in relieved amusement at my own puerile pun.
I was home on my old couch that day, working (according to my notes) on my Masters Thesis, of all things. In fact, the scene seen from inside my picture tube was probably not all that much unlike the one shown here. I was sitting with the TV off when my sister called up and said "the space shuttle just blew up!"…
But my purpose at the moment is not to merely to add to the chorus of somber reminiscence…
…except to perhaps add that whatever differences I might have had with The Gipper and his Gang, Peggy Noonan's tasteful plundering of the first and last lines of High Flight remains the high water mark for post-Kennedy administration presidential eloquence to this very day.
…in fact, my original purpose was to use this post as a introduction to some ruminations on the limits of reuse, but I think I'll try to put those together separately, and just finish this one here instead…
---
From a memepool epidemiological standpoint, I wonder how many posts today will contain the phrases "etched in my memory", "major malfunction" or "surly bonds of earth"… …I suppose when you are president, any use is fair use, attributed or not…