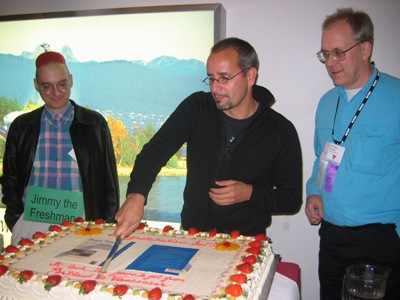 John succumbed to brain cancer on Thanksgiving Day, 24 November 2005. He was only forty-four. I will miss him a lot. Many of us will. We are holding something of a dry, virtual Irish Wake for John on Ward's Wiki. I've posted some of this material over there, too. As of 12/9/05, that WikiWake page had been seen by in excess of 16,000 visitors.
---
The Gang-of-Four celebrated the tenth anniversary of the publication of 'Design Patterns' last year at OOPSLA 2004. Three of them, John (sporting the propeller), Erich (wielding the knife) and Ralph are shown here preparing to eat their words. John was the OOPSLA 2004 Conference Chair, and had made the trip to Vancouver at the price, we later learned, of having had to forego chemotherapy for a week. John is shown still in costume for his role as "Jimmy the Freshman" in "Dating Design Patterns", a skit that I had warned him might seriously undermine the dignity of the entire conference. John replied "What dignity?". For good or ill, this lesson has stuck with me. John had self-effacing sense of humor to go with his genuinely contagious intellect, a rare combination indeed...
---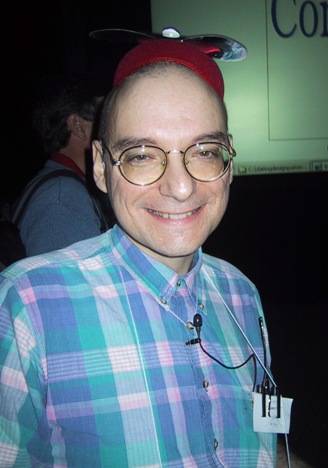 ---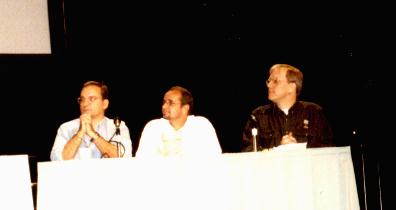 One of my favorite memories of John is, of course, of the time we put him on trial for crimes against computer science. I'd wondered whether anyone would go along with this pretext, but John thought it was a wonderful idea for an OOPSLA panel. A clip of John's plea in this case can be found here.
Another is from Vancouver Aquarium Event at OOPSLA 2004 when John, the Conference Chair, took time out from servicing the usual throng of dignitaries waiting to kiss his ring to chat with a couple of our new students. One of them, Spiros Xanthos, is from Greece, and was amazed and delighted that John took several minutes to chat with him about his ancestors and background in fluent Greek. Spiros will never forget it. I won't either.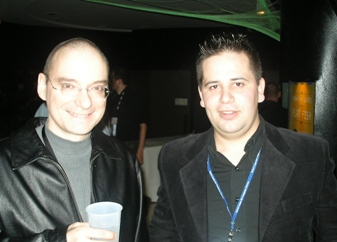 Photos ©2004 by Munawar Hafiz, Spiros Xanthos, and Brian Foote